Around the Base
In 1965 the base had a old side (west) with wood frame barracks and a new side (east) with the brick multi-story barracks. They were separated by the old inactive runway. The single guys that stayed as instructors stayed on the east side of Lowry AFB in the 3418th Instructor Squadron with Major (Haircut) Wilson as the commander.
---
Lowry AFB was still operational in that the airport beacon still flashed red/green/white. Only planes we saw were flown in for our airshow and another time when we stood a Saturday inspection for an incoming official.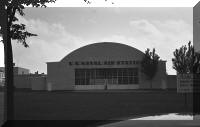 Main gate at 6th Avenue. On the other side was civilian heaven.
Main theatre.... 35 cents and popcorn was extra.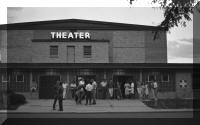 Our mess hall. Some got duties here during technical school or when awaiting orders.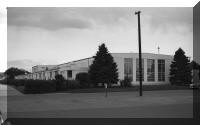 Accident in which '65 Plymouth tried to drive through barracks. ...only made it into one room. Car is behind telephone booth.
Our commander is the 6th man from the right in the flight hat.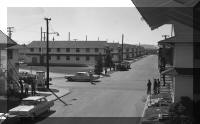 Base Exchange. Home of cheap prices and sells everything (Except girls).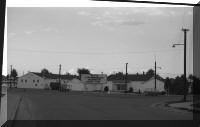 Service club for the airmen. Our squadron was right behind this area so we had better access to it than the mess hall. Spent all our money here and at Shakey's pizza down in Denver.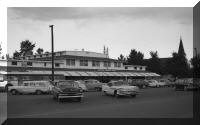 Church over by HQ building. We knew very few that went there. Off base churches were preferred on the basis that they might have a girl or two in the congregation.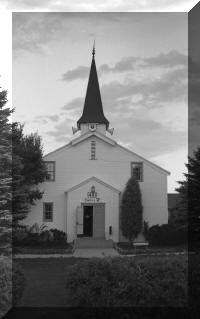 Bookstore which sold miscellaneous items and Air Force logo items.